The 3D Bioplotter from EnvisionTEC is a groundbreaking 3D printer. It has been utilized in over 150 medical research studies and assisted in the creation of new manufacturing techniques. It is particularly cutting-edge in the biomedical world with its applications in drug releases, soft tissue printing, organ printing, cell printing, bone regeneration, and cartilage fabrication. The 3D Bioplotter is available with a range of capabilities, perfect for your specific biomedical printing needs.
The 3D Bioplotter can print for a range of biomedical applications:

Drug releases
Soft tissue printing
Organ printing
Cartilage fabrication
Bone regeneration
Cell printing
Models
We offer two versions of the 3D Bioplotter from EnvisionTEC, the basic Developer Series, and the more advanced Manufacturer Series. These printers both feature biosafety cabinets to guarantee cleanliness and safety. Plus, with modular components you have increased flexibility in the research, development, and manufacturing of your designs. Interchangeable printer heads and temperature regulation allows you to combine multiple materials at different temperatures.
Modular components provide flexibility in research and development.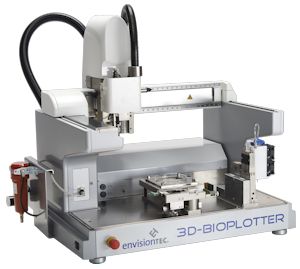 Developer Series
The 3D Bioplotter Developer Series provides users with the basic tools needed for tissue engineering. This model is ideal for research groups that are new to tissue engineering and are looking to explore new possibilities in their research. This series includes a curving UV printer head and optional heated platform in addition to the biosafety cabinet.
If your research group wants to start exploring the possibilities of tissue engineering, then the Developer Series is perfect for you.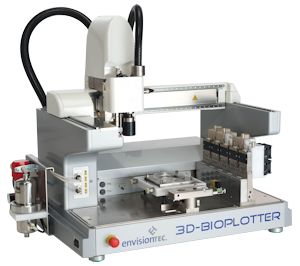 Manufacturer Series
The Manufacturer Series of the 3D Bioplotter includes even more advanced features:
A camera for enhanced needle calibration providing more precise and consistent prints
Multiple cartridges
Temperature controlled tools do that you can include more temperature sensitive materials in a single print.
This model also includes many advanced capabilities including printing scaffolds for tissue growth, or printing based on patient CT data.
The Manufacturer series is suitable for tissue engineering research and production, as well as for rapid prototyping.
The advanced Manufacturer Series is ideal for advanced research groups studying tissue engineering and production.
Capabilities
You can use a range of materials
The 3D Bioplotter doesn't use preprocessed filaments and instead can be used with a range of raw materials pellets or powders that you select. The only requirement is that the materials solidify. You can use materials from any vendor… concentrates, additives, mixture compositions.. whatever you want!!
Use practically any biomaterial you want not matter what form it comes in.
You can print scaffolds
Biocompatible scaffolding can be used for a wide range of regeneration techniques. The EnvisionTEC 3D Bioplotter includes the printer heads and software necessary to create these otherwise impossible-to-manufacture scaffolds. With flexibility in the use of materials, you can use FDA approved materials to ensure that all necessary regulations are met.
Print biocompatible scaffolds for the regrowth of soft tissue cells.
You can print bio-fabrication implants
The 3D Bioplotter can do rapid prototyping in a variety of biomaterials. This printer can create bone regeneration implants, tissue prints, and full organ prints. You have complete control with the temperature controlled tools. The bio-fabrication features can help take your research to the next level.
Summary
The 3D Bioplotter from EnvisionTEC is the key to expanding your research capabilities. With tools and software for biocompatible scaffolding, bio-fabrication, and material flexibility there isn't anything this printer can't do. Temperature controls and a biosafety cabinet ensure that regulations are always met.
Are you ready for the EnvisionTEC 3D Bioplotter to revolutionize your research? Contact us today and we would be happy to discuss which printer is right for you.
Tags: