3D printers have revolutionized many industries including design, engineering, and medicine. With 3D printers, iteration is fast and customized parts are easily created. Markforged has blazed an exciting trail in the 3D printing industry.
Markforged innovated:
The first 3D printers with composite materials—making parts as strong and light as aircraft-grade aluminum
The only printers using carbon-fiber Onyx for strong beautiful production-quality parts
The first sub-$100k laser sintering printer on the market.
The new lineup of Markforged 3D printers provide endless opportunities for researchers, engineers, and designers.
The Markforged Lineup
The Onyx One and Onyx Pro
The Onyx One and Onyx Pro print with the unique Onyx carbon-fiber material. They feature rapid print times and high resolution at an affordable price.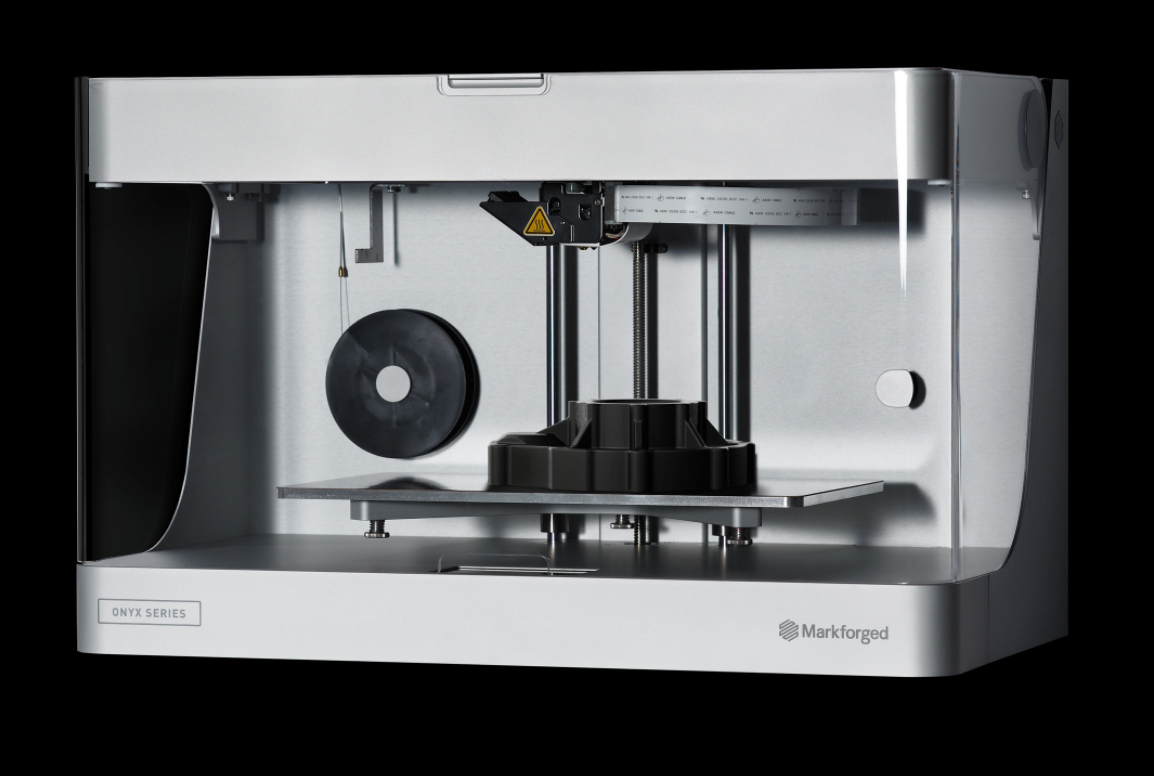 The Onyx One has one printer head and can print with Markforged's beautiful Onyx material.
The Onyx Pro includes two printer heads and can print with Onyx or Onyx reinforced with fiberglass. Reinforced Onyx material is 5x stronger than Onyx alone, giving you the ability to create industrial strength parts.
The Mark Two
The Mark Two 3D printer provides you with the unique carbon fiber reinforcement of the Onyx Pro, plus the capability to print with nylon, carbon fiber, fiberglass, and Kevlar. This wide range of materials allow you to create the strong and versatile parts.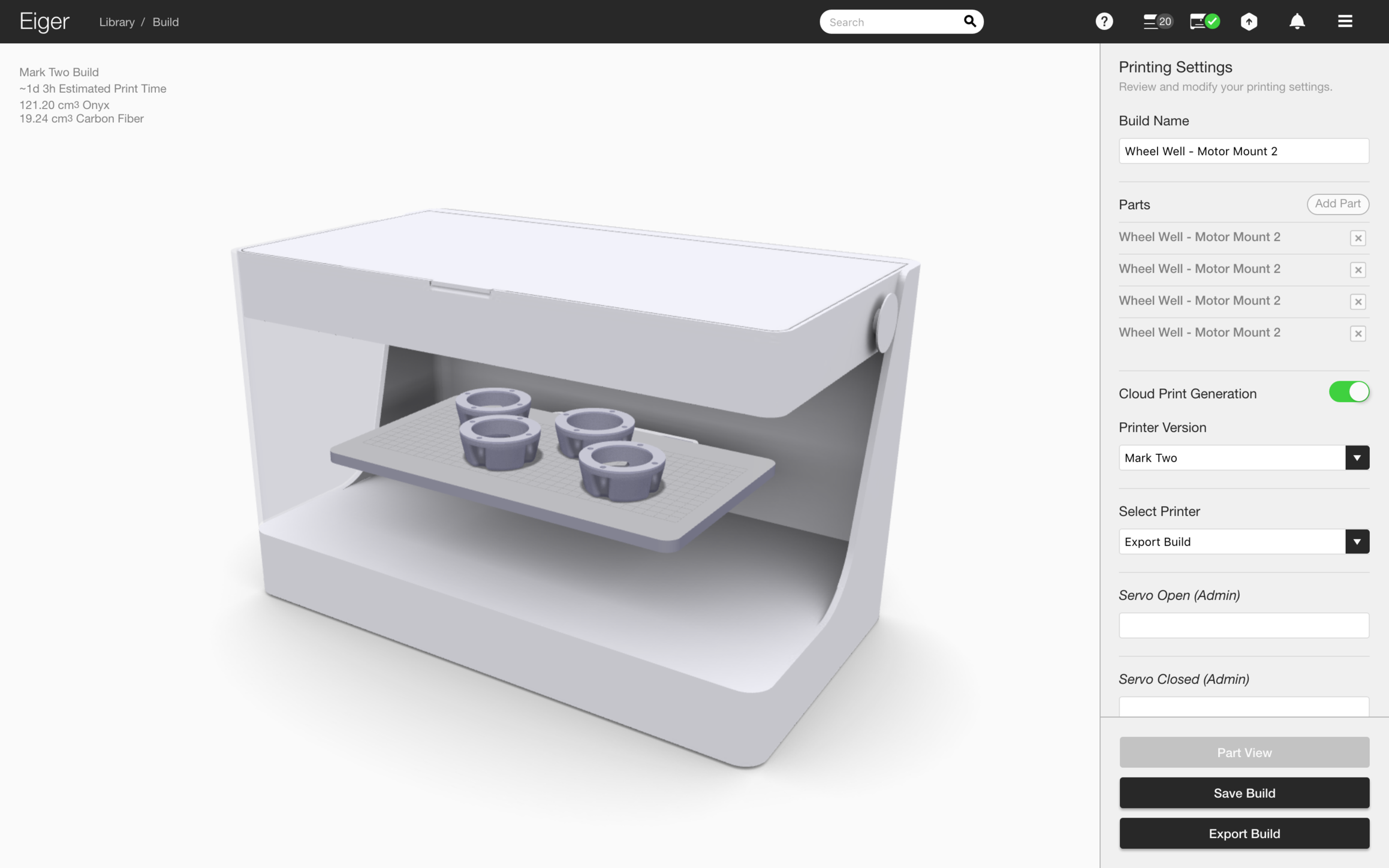 The Mark Two is the only printer on the market that allows you to go straight from CAD file to 3D printed part in a matter of hours.
The Mark Two is the only printer on the market that allows you to go directly from CAD file to part. With this capability, you can get your parts just as you designed in a matter of hours. Plus, with 100-micron resolution, your parts have a beautiful finish and are ready to be used right off the printer.
The Mark X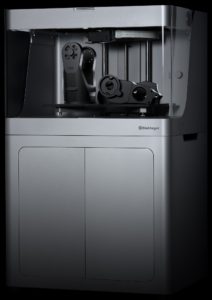 If you want to print large and strong parts, then the Mark X is the 3D printer you are looking for. With a printing platform that is 2.5x larger than the other Markforged printers, you can print big parts with the strength that you know and love. The Mark X can print with carbon fiber, fiberglass, Kevlar, and high-strength high-temperature (HSHT) fiberglass. This 3D printer is perfect for creating prosthetics, robotics, automotive parts, and prototypes.
Ensure printer accuracy at the most critical tolerances with the first precision sensing system.
The Mark X also has the first ever precision sensing system. Printer heads with advanced sensors track every movement to ensure that your prints are flawless. With this functionality, you can even check your parts mid-print to ensure accuracy at the most critical tolerances.
The Metal X
This amazing 3D printer brings you metal sintering without the time and money associated with traditional methods. The Metal X can create your parts overnight in stainless steel, aluminum, tool steel, Inconel, or titanium. With tools to help you create working prototypes, industrial replacement parts, and injection molds you can finally create metal parts with ease.
The Metal X also includes advanced atomic diffusion additive manufacturing or "ADAM" technology. With ADAM, you can generate unique geometries and lattice structures, that are otherwise impossible to create with traditional subtractive manufacturing. Plus, the bulk sintering process allows crystal growth to occur through the printed layers, providing you with strong mechanical properties in every direction.
Something for everyone.
No matter the size of your organization, Markforged has a 3D printer for you. With state-of-the-art technology and materials, your design possibilities are endless. Improve your iteration process and get the parts you want quickly, just as you designed them. Markforged 3D printers are here to make your designs a reality.
The world of 3D printers can be confusing with the multitude of manufacturers, processes, and materials. Want to learn more about Markforged or any of the other 3D printers that we carry?
Contact us today, and we would be happy to discuss your specific needs.
Just want the parts and not the printers? We also offer contract manufacturing.
Tags: