MarkForged: Mark Two Composite Materials 3D Printer
Carbon Fiber is the lightest, strongest material in the world. The incredible strength of carbon fiber comes from the long, continuous strands that carry load down the entire part. This is why space shuttles, rockets, and Formula 1 cars are constructed from continuous strand carbon. And it's how we print. Don't settle for plastic with a dash of chopped carbon fill. Longer is stronger.
Now, you can 3D print parts reinforced with Carbon Fiber, Kevlar or Fiberglass right from your desktop. Nylon and ABS plastic are great for testing form and fit. However adding one of the other materials gives you a part that functions stronger than aluminum with no post processing necessary. You can also select pause points in your print to allow embedded components up to 10 micron accuracy. The Mark Two Enterprise also prints in Onyx, a material that is chopped Carbon Fiber mixed with Nylon. This makes parts stiffer than ABS plastic, but not as brittle.
Mark Two
The Mark Two improves upon the original revolutionary Mark One with:
High Strength Printing
Range of Materials – Nylon, Carbon Fiber, Fiberglass, Kevlar, High Temp Resistant Fiberglass and Onyx
Touchscreen Interface – easy to connect to WiFi, start prints and manage your printer
Eiger – Proprietary Software Included
The Mark Two Carbon Fiber 3D Printer by MarkForged uses proprietary "Eiger" software. Very simple to use, Eiger runs in the browser of any computer that runs Google Chrome. Once you get your Mark Two printer, you just login to eiger.io and get started. There are no downloads and no hassles.
Upload and update your STL files in your library
Clone and version files
Collaborate and share
Automatic Fiber Routing can make your part 10x stronger or more
Control and edit the Fiber Density and directionality on a layer by layer basis
Adjust strength and flexibility in different areas of your part
Print via Wi-Fi
Increased security – The Enterprise uses increased security features manages permissions for multiple users to better protect your intellectual property.
Import your drawing and slice it for high strength or low weight.
Specifications
Build Size: 320mm x 132mm x 154mm
Layer Resolution: 0.1mm
Materials: Carbon Fiber, Fiberglass, Kevlar®, Nylon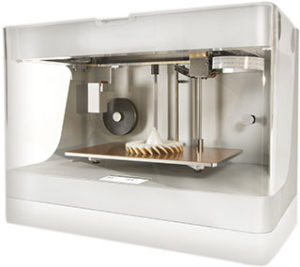 Need higher resolution?

Check out EnvisionTEC's line of high resolution 3D printers with the very highest 3D printer resolutions available–up to .03mm!
Mark Two Composite 3D and Enterprise Bundle
$13,499
For more demanding applications and larger facilities. The all-new enterprise bundle includes:
Mark Two Composite 3D Printer.
MarkForged software. Premium software support.
Nylon filament, 800 cm3 (61 in3)
Onyx filament, 800 cm3 (48.8 in3)
Fiberglass filament, 100 cm3 (6.1 in3)
Carbon fiber filament, 100 cm3 (6.1 in3)
Kevlar® filament, 100 cm3 (6.1 in3)
High Temp Fiberglass, 100 cm3 (6.1 in3)
3 x CFF Quick-change nozzle
3 x FFF Quick-change nozzle
1 Additional print bed
Cloud storage
Local storage
Enterprise-Only Software
Enterprise-Only Software Features Include:
Single Sign-On
Optional two-factor authentication for enhanced security
Early access to new features
Company admin portal