Fashion is one of the past decade's rare economic success stories. Over the past ten years, the industry has grown at 5.5% annually, per the McKinsey Global Fashion Index, to now be worth an estimated $2.4 trillion. In fact, not only is it an industry that everyone is a part of, but it would be the world's seventh-largest economy if ranked alongside individual countries' GDP.
The fashion industry has grown 5.5% annually over the past decade.

2016 was a difficult year.
Even with substantial growth over the last decade, 2016 was one of the industry's toughest years. Consumers have become more demanding, more discerning, and less predictable in their purchasing behavior, which is being radically reshaped by new technologies. Companies have also been looking inward, implementing changes to core operations that are, in turn, reshaping the entire fashion system – from shortening the length of the fashion cycle to integrating sustainable innovation into the core product design and manufacturing processes.
New technologies are reshaping consumer purchasing behavior.
This is in stark contrast to the fashion industry's performance over the previous decade, which saw the industry expand at 5.5% annually.
Yet, this sluggish overall growth masks some big winners: the affordable-luxury, value, and athletic wear sectors, which have each outperformed all other segments by one to one-and-a-half percentage points.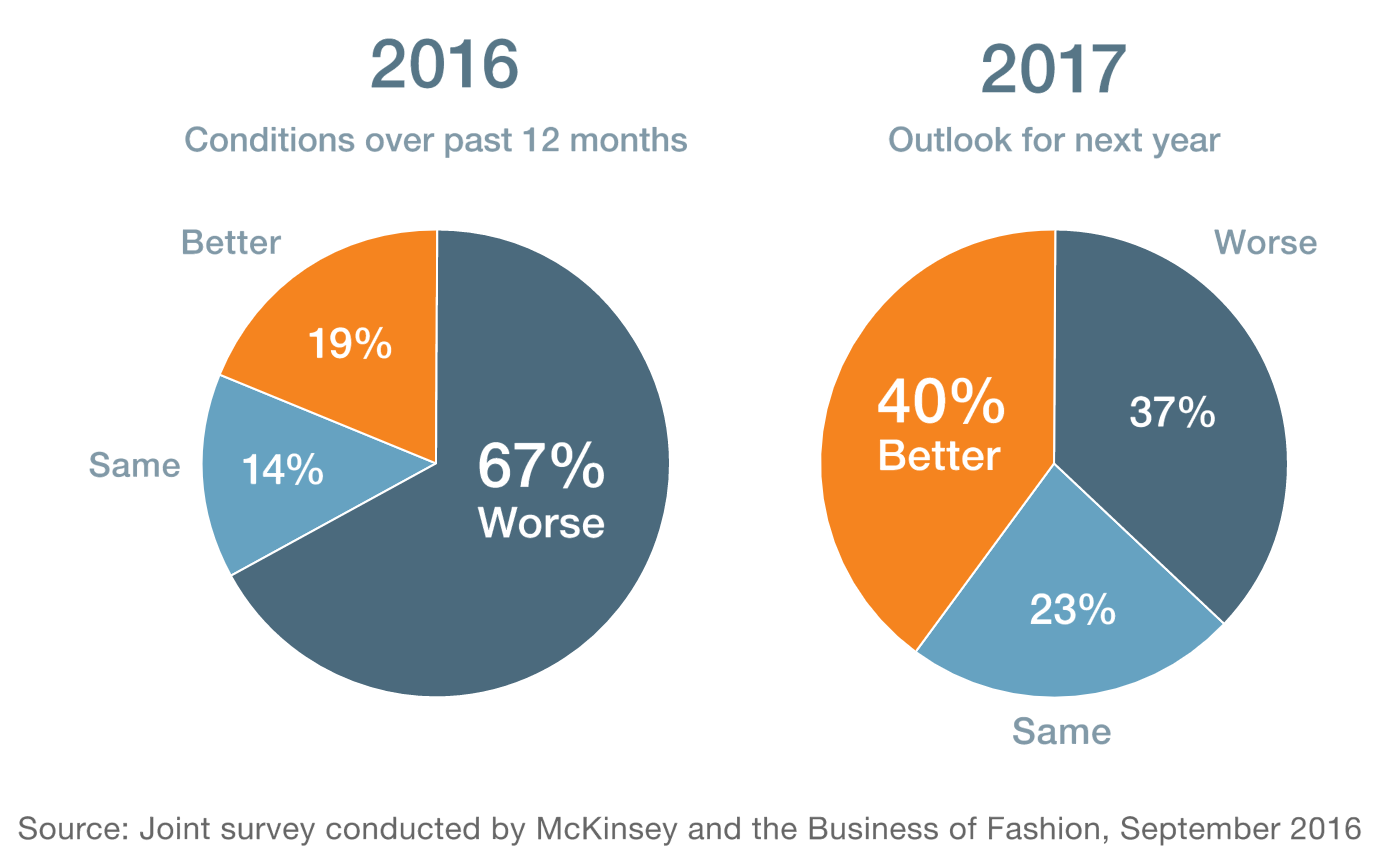 Positive predictions
40% of the executives interviewed expect conditions for the fashion industry to improve in 2017. Many of them have already undertaken significant cost cutting and restructuring projects, and are now primed to capture the benefits.
We're predicting that fashion-industry growth will increase to 2.5-3.5% in 2017.
40% of executives expect fashion industry conditions to improve in 2017.
Product categories are expected to grow in line with the overall industry average, but the biggest winners will be those companies with coherent channel strategies and clear value definitions.
Athletic wear is set to become the absolute category champion, maintaining 6.5-7.5% sales growth, although it will be unable to reproduce the same double-digit growth of the past. The affordable-luxury segment seems likely to continue benefiting from consumers trading down from luxury, while signs point to the continued growth of the value segment as large global players expand internationally.
Fashion IT Trends in 2017 and beyond.
So, what does all of this have to do with one of the big enabling factors for fashion, IT?
What are the dominant fashion IT trends will we be seeing in 2017 and 2018?
Successful companies will invest more into optimizing existing sales channels. After years of focusing on expanding channels and distribution, companies will start to increase the efficiency and margins of these new channels.
Digital innovation will go behind the scenes: digitization will be the key to supply-chain efficiency, lowering procurement costs, and the enhancement of sourcing opportunities.
Throughout 2017, companies are expected to nurture current client relationships and take advantage of digital innovations.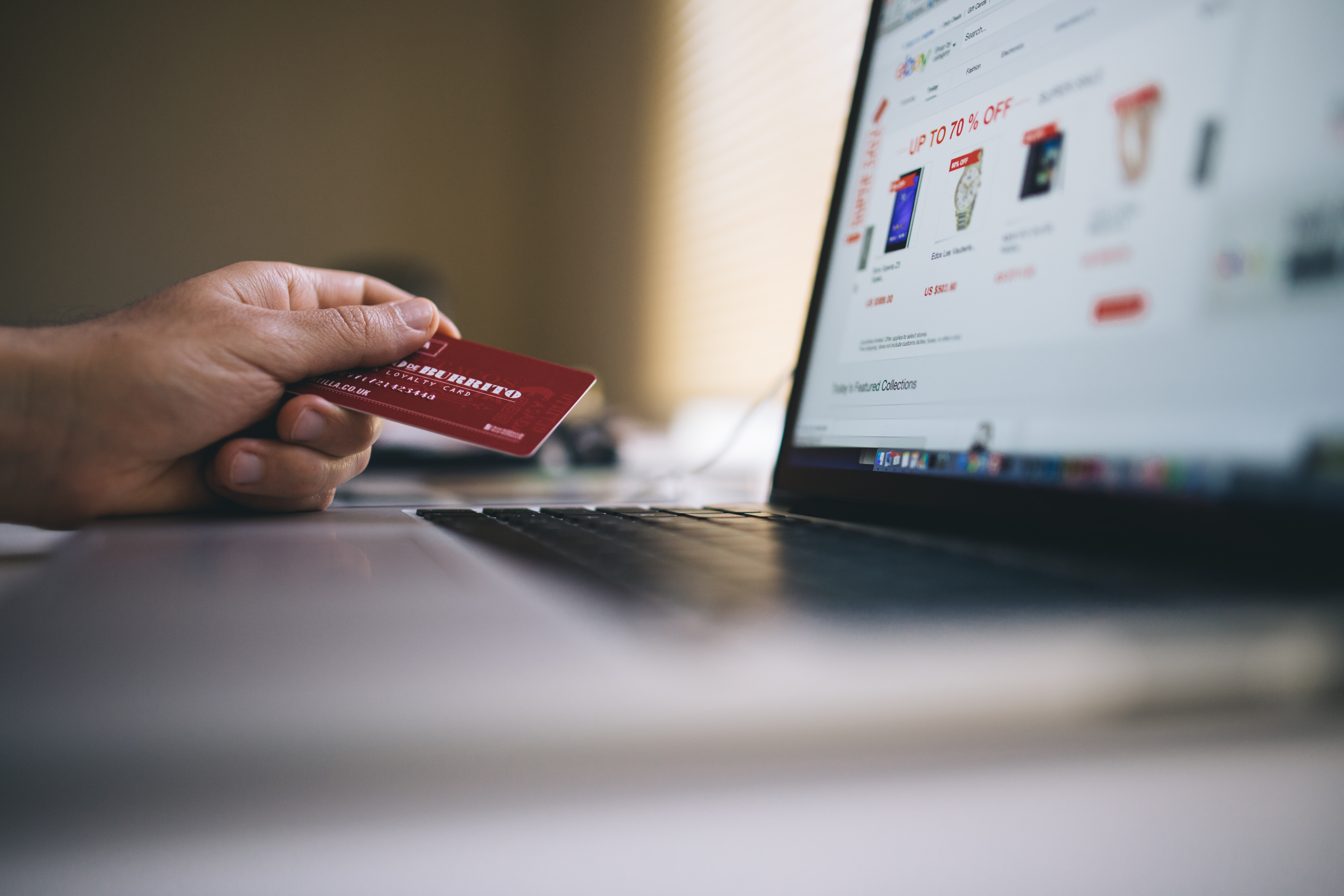 Using technology to fuel and supports strategic goals
Technology fuels and supports the larger strategic goals of an organization, not the other way around, and the fashion IT trends of 2017 are no exception. Without evolving technology successfully achieving new growth and profit goals is impossible. Advanced technology makes these things possible by automating tedious tasks and improving productivity throughout organizations.
Designers, engineers, and all employees accomplish more when they are supported by advanced technology. From initial design and development all the way through the supply-chain and product disposal, technology supports and improves all parts of the product lifecycle.
Time to stabilize and reset
In short, the fashion IT trends of this year provide companies with an opportunity to stabilize and reset, and success stories will probably be written by those already planning for the years ahead.
Your Technology Partner
Navigating the technological world is challenging. It's hard to find the right software and programs you need to support your organization, especially with so many confusing packaging and pricing options available.
At 3DSMAN, we understand just how important technology is in supporting your organization's unique strategic goals. By partnering with us you get the advanced technological support you need. Our partnership provides you with the edge you need to compete in an ever-evolving market.
We provide a range of services and products to increase the efficiency of design and supply chain infrastructure for fashion and apparel companies.
Want to chat about how we might be able to assist your company? Contact us today.
Tags: