Multi-DNC™
Wired and Wireless Communications for your CNC's and Robots
Multi-DNC software networks all of your CNCs and robots. It supports CNC communications for uploading, downloading, and dripfeeding using wired & wireless RS-232, RS-422 or wired & wireless Ethernet. Multi-DNC manages your CNC programs, offsets, parameters and can automatically capture probe data.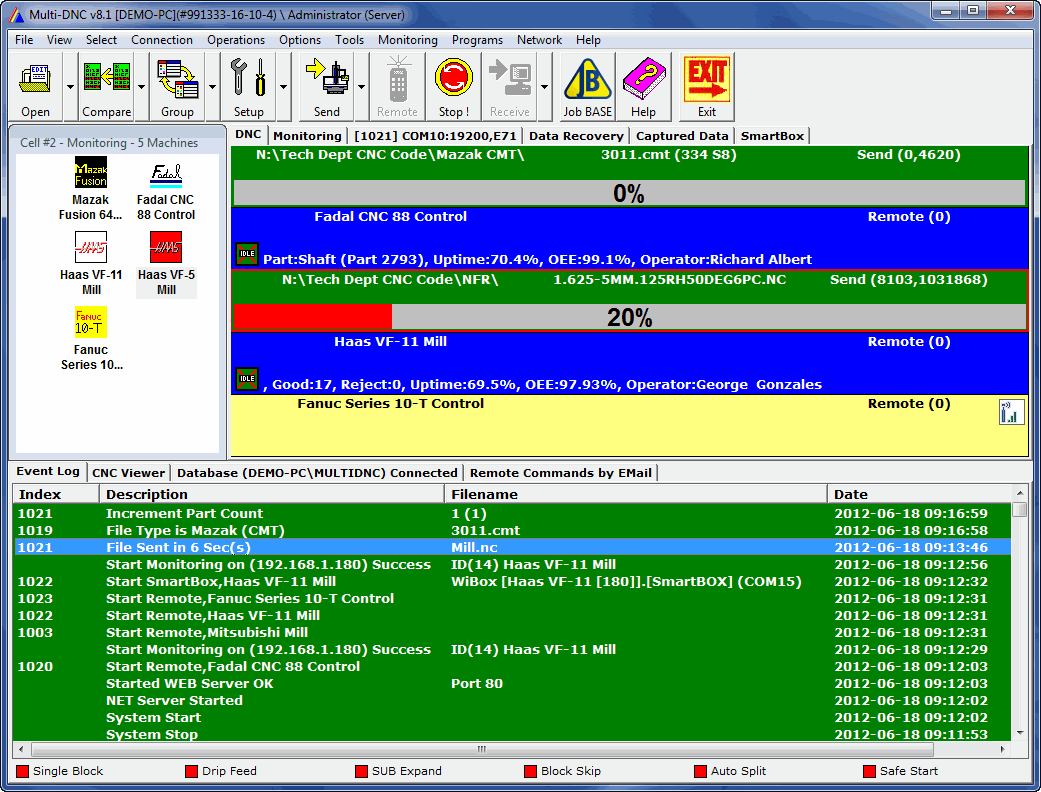 Remote Request
Eliminate walking back and forth between PC & CNC, switchboxes, memory sticks and floppies. CNC Operators pull files into their machines from the CRT on the CNC control. Eliminate typing mistakes and standardize your file downloads by using Bar code readers, a Spectrum SmartBox TM or Multi- DNC's browser based SmartTouch InterfaceTM from an Apple iPad or Android based tablet.
Search sub-folders automatically
Multi-DNC's Remote feature searches multiple level sub-folders automatically.
Remote Directory
CNC operator can get a list of files for their machine using the CRT on the CNC control.
Remote Request by Wildcard
Remote can use a Wildcard request for a file, which allows the use of just the first few characters of the file. This is very useful if you have long Windows file names for your CNC programs.
Push Files to your CNC's
From the Multi-DNC Windows interface, a Windows Client PC, or push CNC programs into a Machine queue from a 3rd party application like a CAD/CAM system.
Auto File Compare
Browser based Side by Side File Compare. Run in any browser from a PC anywhere on your network as well as from an Apple iPad or Android based tablet.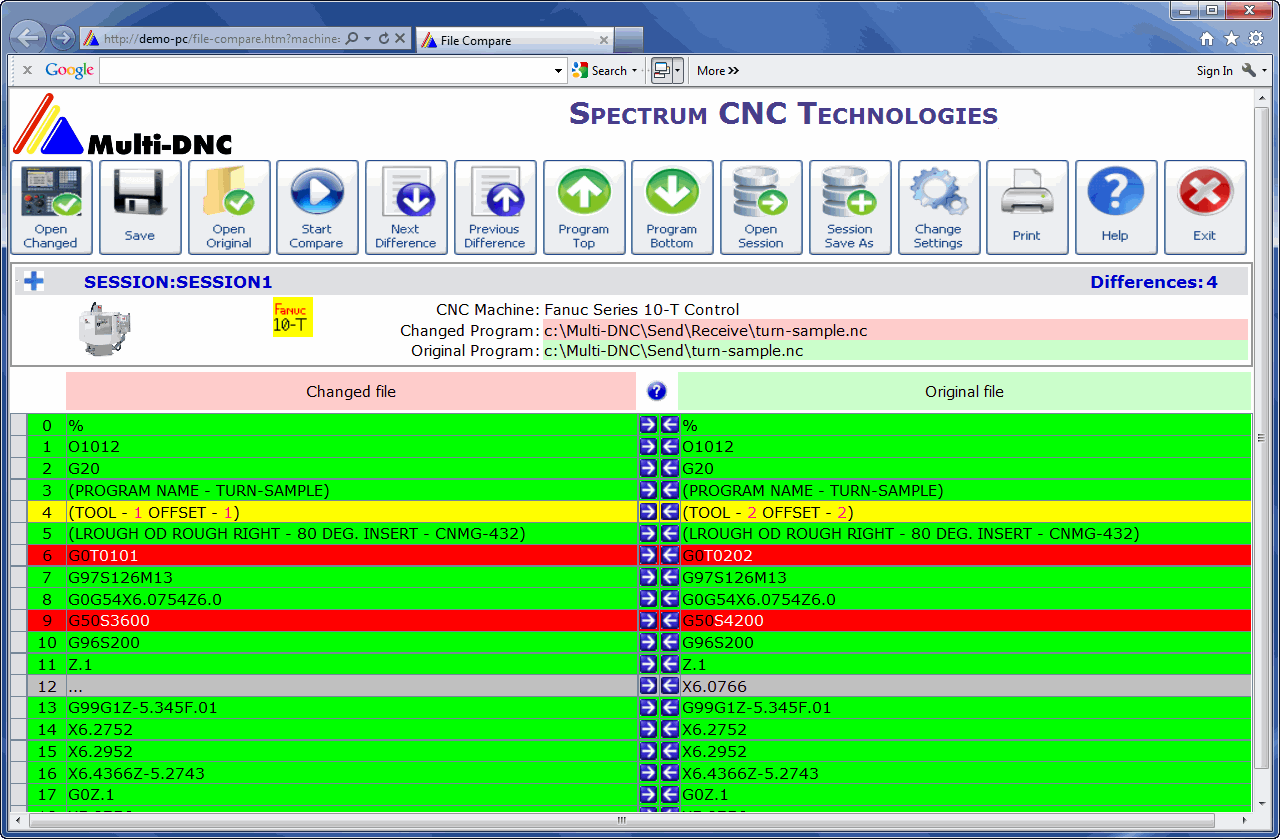 Auto File Compare Alert Email
Alerts engineering personnel immediately when a change has been made to the original NC file. The uploaded file from the CNC Control is automatically compared to the original file sent and a link to show the differences between the two files is emailed to you. If there are no differences, the uploaded file can be automatically deleted.


Backup/Restore-One Click
Multi-DNC's one click backup/restore feature allows you to quickly recover from pc failure. Backup and restore your entire machine tool settings with one click.
Support for Virtual Servers and PC's
Multi-DNC can be used with Virtual Servers and PC's – Microsoft Virtual Server – Virtual PC – Hyper-V, as well as all VMWare virtual products. 100% network compatible.
Mid-Program Restart
Allows the DNC operator to restart a program from any point in the file in case of tool breakage or to re-cut parts of the program. There are multiple Restart methods to give CNC operators the maximum amount of flexibility. A Safe Start Block Editor lets you easily manipulate the initialization codes that you send before a Restart.
Sub-Program Expansion
SubExpand is a Direct DNC (Drip Feed) feature where Multi- DNC Sends a Main program and automatically expands out the sub–program calls just like a CNC control. The sub-program is then run in a Direct DNC (dripfeed) mode. Multiple-level sub- programs and sub-program looping are supported.
Password Restrict DNC Functions
Up to 24 Multi-DNC functions can be applied to a restricted user or multiple users. For example, restrict the ability to change machine setups or restrict a user to an individual machine or cell.
Safe Server
The Safe Server option automatically copies the CNC program from its normal position to the local hard disk before sending. This is important for Direct DNC (drip feed) if the CNC programs reside on a networked drive, so that any network problems will not affect the Direct DNC operation.
Spectrum CNC Editor
Included with every Multi-DNC system. Edit or backplot your CNC files.