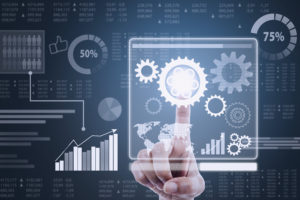 CATIA is the world's leading solution for product design and experience. It is used by leading organizations in a range of industries to develop the products we see and use in our everyday lives. CATIA's Design, Engineering, and Systems Engineering applications are the heart of Industry Solution Experiences from Dassault Systèmes to address specific industry needs. This revolutionizes the way organizations conceive, develop, and realize new products, delivering competitive edge through innovative customer experiences.
CATIA revolutionizes the way organizations conceive, develop, and realize new products.
CATIA Price, Licensing, and Packaging
CATIA 3DEXPERIENCE has pricing flexibility to meet your organization's unique needs. Licenses can be acquired for a one-time charge with annual maintenance, or on a quarterly or yearly lease. While the CATIA price varies based on specific configurations, a fully functional base license of CATIA 3DEXPERIENCE can be purchased at one-time purchase charge of $11,200 with annual maintenance of $2,000. A quarterly lease is priced at $1,700 and a yearly lease at $4,500.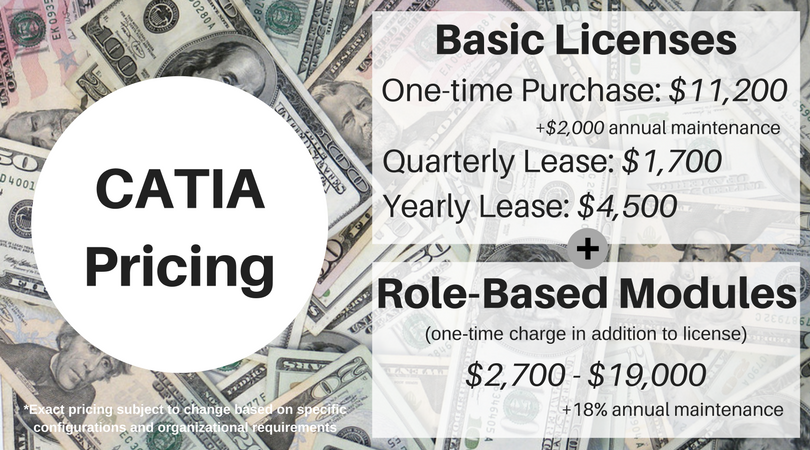 For more specific tools and capabilities on top of the basic license, CATIA offers role-based modules. For example, add on packages geared towards layout, style, mechanical, equipment, and manufacturing engineers are available for an additional one-time charge ranging from $2,700 to $19,000 with an annual maintenance charge 18% of the module purchasing price. Role-based modules offer essential tools for a range of industries including Aerospace SheetMetal Design and Automotive Body-in-White Design.
CATIA: Role-Based Functionality
Engineers
Products and experiences continue to increase in complexity with performance and quality targets becoming more demanding. CATIA helps answer that challenge by enabling the rapid development of high-quality mechanical products. Mechanical engineers equipped with CATIA 3D Modeling roles can gain insight into key factors of quality and performance early in product development.
CATIA enables the rapid development of high-quality mechanical products.
Digital prototyping, combined with digital analysis and simulation, allows product development teams to virtually create and analyze a mechanical product in its operating environment. CATIA Engineering provides the platform that enables engineers to create any type of 3D assembly, for a wide range of engineering processes.
Designers
From product to transportation industries, the style and design of the product play a major role in a product's market success. The advanced tools in CATIA Design help designers develop shapes, utilize creative materials, reach a high level of surface sophistication and quality, and make beneficial product decisions with physical and virtual prototypes. CATIA Design allows designers to do: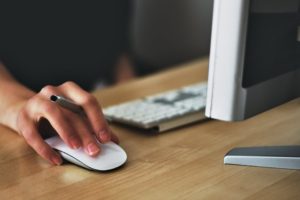 3D sketching
Subdivision surfacing
Class-A modeling
3D printing
Reverse engineering
Visualizations
Product experience modeling
CATIA Design includes all the tools designers need to boost innovation and create high-quality products.
Systems Engineers
Developing smart products has never been more challenging. Developers must use an integrated systems engineering approach that enables them to manage the entire development process. Requirements engineering, systems architecture definition, detailed modeling, complex systems simulation, and the development of embedded software all need to be mastered in the context of the complete product.
The System Engineer application allows users to easily manage the entire product development process.
The Systems Engineering solution from Dassault Systèmes delivers a unique, open, and extensive development platform. It fully integrates all of the cross-discipline modeling, simulation, verification, and business processes that are needed for developing complex 'cyber-physical' products.
Includes intuitive and easy to use search capabilities, helping engineers quickly find the data they need
Facilitates collaboration by supporting real-time brainstorming for teams of all sizes
Helps developers explore alternative designs by easily creating multiple scenarios
Reduces overhead and maintains data integrity through a unified data model that supports design, FEA, and manufacturing processes
Interested in getting more information the capabilities of CATIA 3DEXPERIENCE or looking for specific pricing? Contact us to be put in touch with a member of our team.
Tags: