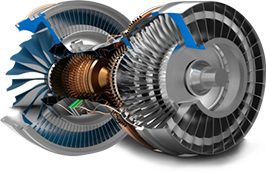 EXALEAD OnePart is a business discovery application that can help engineers and designers source and standardize parts for reuse. Searching for parts has always been an extremely error prone and time consuming task, but designing new parts costs a significant amount of time and money. By having the ability to easily find parts to reuse, designers can accelerate the design process and get new products to market faster. EXALEAD OnePart creates an easily searchable database to make finding parts easy.
EXALEAD OnePart helps users find parts to reuse by creating an easily searchable database.
Why OnePart?
You know that storing and designing duplicate parts costs a significant amount of time and money, but do you realize how much? A study from the McDermott firm determined that "knowledge workers" spend about 38% of their time searching for information.
What happens when designers can't find the part the need– even when it already exists?
They design an identical or near-identical part.
According to an Arthur D. Little Study, 80% of a designers' time is spent creating these unnecessary parts.
Designers spend 80% of their time designing parts from scratch, when identical or near-identical parts already exist.
And it's not just time, the monetary cost of these unnecessary parts is huge. The physical manufacturing of duplicate parts obviously varies in cost depending on the quantity, material, and complexity of the part. But tracking and storing parts is an additional and basically linear cost on top of the exponential production and logistical complications added with every new SKU. And of course, every new part requires their own quality control checks and documentation.
In short, every unnecessary unique part is costing your organization time and money. Lots of it.
EXALEAD OnePart can help reduce all of these costs, by making it easier for designers to reuse parts. Users can easily find whatever part they want in the intuitively searchable database.
Reusing parts rather than reinventing the wheel gives your designers time for actual innovation, simplifies the manufacturing process and related logistics, and gets your products to market faster.
How it works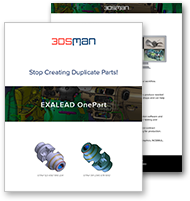 EXALEAD OnePart provides standardized indexing so that users can look for parts based on a range of features including material, family, or even 3D mechanical aspects within the design. That means that users can search for parts according to their exact physical features like number or type of holes, pads, groves, chambers, etc. Files can be searched regardless of the original CAD program used or where in the organization the file is stored. With this kind of easy and precise searching, designers are more likely to utilize the digital assets and IP that already exist within your organization.
Plus, EXALEAD doesn't search only for models, but searches all the 2D and 3D documentation that goes along with it. Access to this associated documentation allows designers to make sure the part will work correctly. And when new parts are required and subsequently created, they can be easily indexed into the system decreasing the chances of duplicating parts in the future.
OnePart optimizes the reuse of parts, designs, and all related documentation.
Benefits
Since designers no longer have to take time to design and test new unnecessary parts, products get to market significantly faster, maintaining your company's competitive edge. With 2D and 3D assets available for reuse immediately, your company can speed the ramp up time for new projects too. Utilizing past designs, you can ensure that you aren't unnecessarily creating exact part duplicates, and incurring the costs associated with those new designs.
Using OnePart you can determine which parts are best for reuse resulting in lower product costs, better product quality, and faster time to market.
By reusing parts you have already tested you can improve the quality of your products, speed time to market, and can use your past knowledge to leverage the design of new products.
Additional Features
EXALEAD OnePart also includes an array of additional capabilities including:
User friendly charts and graphs with easily configurable KPI's making rapid analysis of organizational usage and benefit easy
Search capabilities across parts, assemblies, and drawings from most data sources including many CAD providers
Shape searching features to find similar parts based on a known reference
Side-by-side part comparisons allowing users to highlight the most relevant and applicable parts for reuse
Easy exploration into the parent-child relationships of an assembly to converge on the correct part
3D machine learning that gives users the capability to search parts based on shape, geometrical features, and semantic criteria
The Takeaway
EXALEAD OnePart is the only part indexing tool you need. With its easy set up and flexibility you could have all of your company's digital assets and IP organized in a matter of days. You no longer need to spend time redesigning existing parts, or searching through tons of old files. OnePart's features and capabilities make it easy to find the exact part you need for your project.
Want to learn more about EXALEAD OnePart? Download our FREE eBook outlining the complete benefits! Or contact us and we would be happy to discuss pricing and how OnePart could work for your organization.
Tags: